Kybella Injections in Doylestown, PA

Submental fullness, also known as a "double chin," is a common facial aesthetic condition that is often left untreated. Many adults, both male and female, experience this facial condition with age or weight gain, and cannot be treated with diet and exercise alone. In a 2014 study conducted by the American Society for Dermatologic Surgery, 68% of people said that the fullness under their chin bothered them just as much as wrinkles around and under their eyes.
Experience a more contoured appearance with Kybella!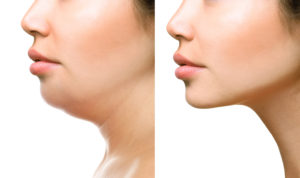 What is Kybella?
Kybella™ is the first FDA-approved, non-surgical double chin removal treatment used to contour and improve the appearance of submental fullness. Kybella™ is injected into the fat pad nestled under the chin and then works to melt the fat and tighten the skin. The active ingredient in Kybella™ is deoxycholic acid, a naturally-occurring molecule in the body that aids in the breakdown of fat. Once these cells have been destroyed, they cannot store or accumulate fat.
Interested in newer technologies for fat removal?
How many treatments will I need?
In two to four treatment sessions, you'll experience visible contouring of your chin profile. Up to six treatments can be administered, one per month. Once all treatments have been administered, results are permanent and do not require retreatment.

Dr. DeBias offers this service in his Doylestown, PA treatment center. He is ranked in the top 1% for cosmetic Injectors in the U.S. based on status and experience and is Kybella™ certified.
Contact us today to schedule an appointment and see what Kybella™ treatments can do for you!
---
More information about Kybella can be found at the manufacturer's website.