Vaser Shape Cellulite Reduction Treatment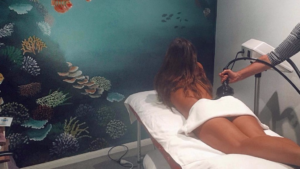 The Institute for Laser and Aesthetic Medicine offers the Vaser Shape Cellulite Reduction Treatment. Visit their treatment center in Doylestown, PA of Bucks County.
Benefits of Vaser Shape
Smooths, firms, and shapes the body
Reduce the appearance of cellulite
Improve local blood circulation

Frequently Asked Questions
What is Vaser Shape?
Vaser Shape is a non-invasive ultrasound and massage therapy procedure. 
How does it work?
The treatment uses ultrasound waves to warm the targeted problem area and treat the underlying fatty tissue. It then uses zonal lymphatic massage to drain away excess toxins and lipids for removal from the body.
How long is the treatment period?
Unlike other non-invasive body shaping procedures, Vaser Shape is a comfortable treatment that only requires 45 minutes to an hour per session.
What Areas Can Vaser Shape Target?
Abdomen
Back
Hips
Thighs
Arms